DRESS WELL: How to Style Watches (featuring Foundation Watches)
In a world where menswear has become this amalgam of various tastes, aesthetes and styles, there is one classic piece that is always constant across the board: A great timepiece. The almighty finisher to any outfit, a watch is the ultimate masculine accessory. It adds flair compared to a bare wrist, as it is a piece with functionality as well as design. A slick, clean watch can work across any aesthetic, adding extra style points to the fit.
While there are many tasteful options to consider when it comes to timepieces, like anything in fashion watches can be overdone, overly expensive, and tacky. That's why it's important to buy one that is clean, minimal, and sharp. With watches, less is more. That's why we are partnering with Foundation Watches in order to promote excellent timepieces to our readers! They are a Michigan-based company devoted to getting good quality, affordable watches to stylish guys like us, and you. We recently took their Arkose and Gneiss models for a spin to show you how a great watch can tie any outfit together. If you like their watches as much as we do, then head to foundationwatches.com and just for our readers, they are offering an exclusive deal! Enter promo code "LVD18" at checkout to get 20% off your watch. Without further ado, here's how we do watches:
Avery: For this first look, I wanted to coordinate my outfit to not only my watch's colors, but the vibe of the watch as well. This Gneiss model, to me, exudes both rugged and elegant qualities. The masculine, caramel brown leather strap and military-inspired stock used for the numbers plays well with the washed denim jacket and knit beanie. The silver bezel and classic shape of the timepiece jives well with the elegance of the turtleneck sweater, slim chinos and chelsea boots. Overall, it is a look that treads the line between posh and badass.
Shawn: Damn, I wish I could tell time. But let me tell ya, a sweet outfit won't be as sweet without a cool watch to top it off. For this fit, I truly expressed the dichotomy of my fashion aesthete. On one hand, I am enamored by prep and heritage brands, as shown by my plaid blazer, purple cable knit sweater, oxford shirt, and wool tie. On the bottom, I contrast that by tossing on some cuffed blue jeans and white canvas sneaks. The watch has this kick-ass green face, which contrasts with the purple sweater, and matches the subtle green lines in the fabric of the jacket. Plus, the overall shape of the Gneiss is large and masculine, and it has a strong presence on my wrist. This outfit says, "Hey, I'm smart and respectable, but I also know how to keep it cool." **Insert sunglasses emoji here**
Mason: Foundation watches are a nice compliment to most outfits because of their clean elegant watch faces and bands. For this outfit I went for an aesthetic somewhere between streetwear and high fashion reflecting Detroit's current identity. The bold orange leather band was a near perfect match for the bits of orange on my Nike trainers so I decided to pair them together with my bright blue nail polish for contrast. The gleaming silver bezel was also something I wanted to extend further into this look, and I did so with my custom chain belt. For the rest of the outfit I used neutral tones and donned the formal pinstripe pants and faux fur coat to add the luxury aftertaste I was aiming for.

Avery: In this look, I aimed for warm and festive vibes. The watch I chose was the very handsome Arkose model with a chocolate brown strap and blue face. Given the clean, simple shape of the watch, I thought I'd compliment it by wearing it with some standout pieces. My navy and gray plaid wool trousers are a statement piece with vintage vibe, matching the retro design of the watch. To keep it from looking too prep, I decided to musk things up with a badass navy shearling collar coat. The dichotomy between modern and classic styles matches my taste and the watch perfectly, and the use of blues and grays bring it all together.
Shawn: For my second outfit, I wanted to go for the vibe of something a little off-duty, something a bit more casual. There's a certain nonchalance about this fit, which is exactly what I'm going for. First, I made sure to coordinate a pleasant palette of pastel, faded out colors. Who said salmon sweatshirts can't be worn in the winter, eh? The stone color of my corduroys matches the face of my Arkose watch perfectly, and the washed pink and baby blue on top adds a subtle contrast. The lighter brown leather of the strap matches the washed out, chill vibes of the rest of the pieces. If you wanna be extra, like me, you can turn your watch face so that it's on the underside of your wrist. I hear all the cool kids are doing it.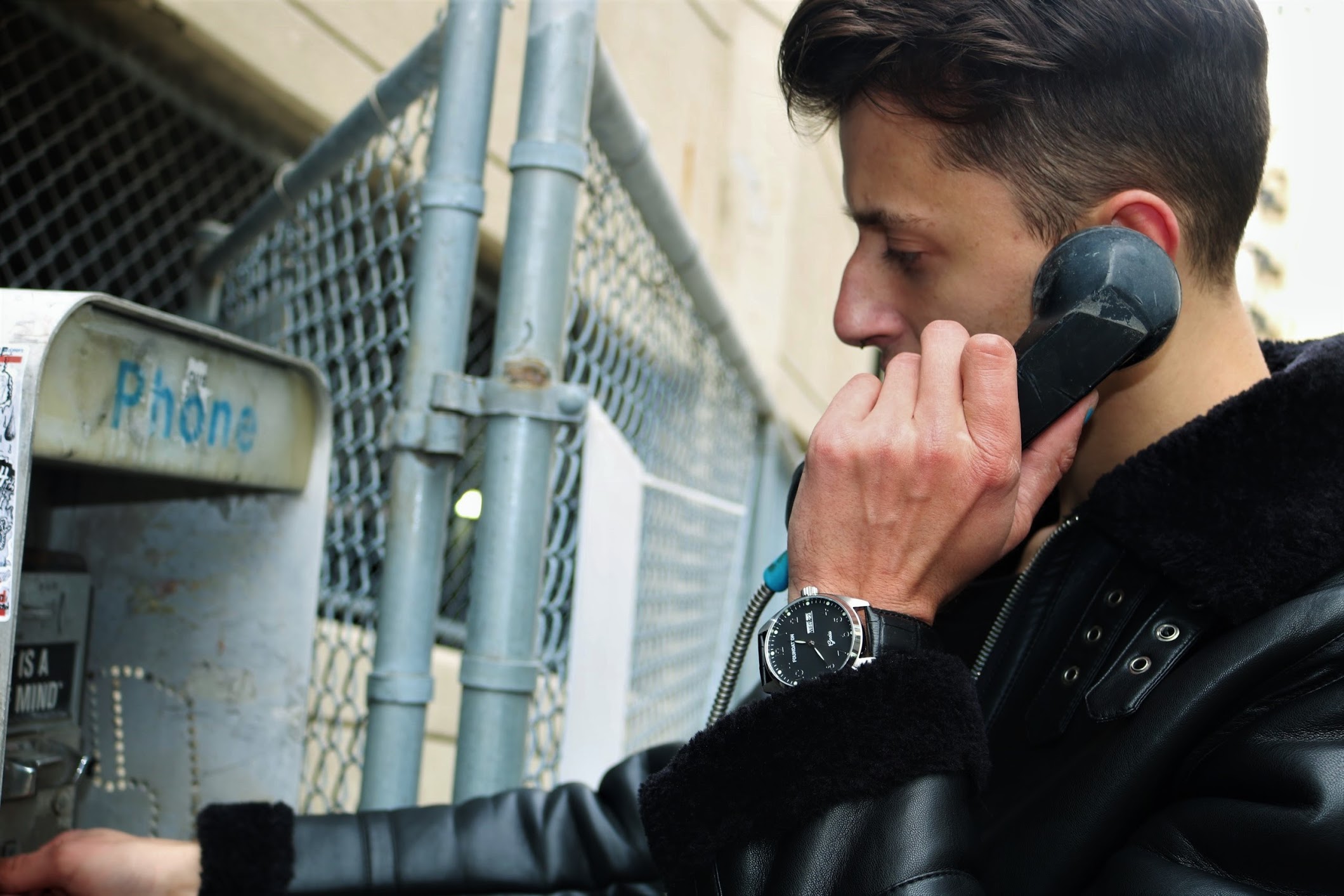 Mason: As for this outfit I wanted to keep things a bit simpler. I wanted to bring out the stylish ruggedness expressed by the watch so I went with an elegant biker look. All black can be boring if done wrong, so I used the varying textures of denim, leather, metal and shearling to add visual interest to this outfit.
For this article, we also wanted to add in the perspectives of two of our well-dressed friends, Cedric and Daniel, to further show off just how versatile these watches are:
Dan: Well-dressed? Personally I'd say I'm immaculately dressed. For this fit I decided to go with a classic all black look with a splash of color. Nearly everyone can pull off an all black look but you really need some statement pieces to stand out from the crowd. My Marcelo Burlon hoodie paired with my Shattered Backboard Jordan 1s adds a punch of orange into this outfit that goes beautifully with the orange Gneiss model. For the jeans, I went with a classic, Levi's 510 skinny fit jeans taper perfectly and sit on top of the J's without diminishing the silhouette. The punchy orange color, while trendy in streetwear right now, is hard to pull off without looking like a traffic cone. The key is keeping it all in the details.

Cedric: Wow, very honored to be here with my LVD boys. When I'm getting dressed, I like to look smooth and sophisticated, while still adding an element of fun. That's why I paired this cool blue flowered dress shirt with a fur-lined, beige corduroy trucker jacket for a little bit of pop up top. Chelsea boots and navy trousers keep the fit grounded. The blue, tan and brown color scheme work well with the light brown strap and bluish-gray, almost concrete colored faced of the watch. This fit is rooted in simple, quality pieces that all meld together for a fun, versatile outfit that is great for most occasions. To use a word I always hear Avery using, it's got panache.
That's how we do watches, LVD style! Special thanks to Foundation for supplying us with their beautiful timepieces for this article. If you were inspired by us and want to cop a Foundation Watch for yourself (we totally see why you would), visit foundationwatches.com, and remember to use our promo code "LVD18" for 20% off!