DRESS WELL: Spring Has Sprung
Well gentlemen, as of last week, spring is officially here! The days are longer, the mercury on the thermometer is rising, and the plants and animals are awakening. While the natural transformation from winter to spring is a wonder in of itself, the sartorial spring time shift, to us, is just as glorious. As Mother Nature trades her snow for flowers, and clouds for sunshine, we style-savvy men shed our heavy wool layers for breezy cottons, and our dark hues for a brighter palette. The collections for Spring/Summer 2017 were beautiful, yet quite varied. The modern fashion scene has become a hodgepodge of inspiration and aesthetics. However, even among the amalgam of design and clothing, a few key trends emerged from the lot as the most stylistically appealing (in our opinion) pieces to wear when the weather gets warmer. Of course, these trends are mere suggestions on what to wear for the season, so pick and choose what works for your individual style.
Embroidery
Spearheaded by Gucci mastermind Alessandro Michele, embroidery has gone from one designer's signature to a full-on trend. Jackets, shirts, pants, and sweatshirts all get elevated by the addition of interesting graphics embroidered into the garment. The patches are usually eccentric and interesting, depicting animals, flowers, abstract designs, and anything in between. Embroidery is a fun way to add a splash of whimsy and individuality, transforming any plain garment into a personal canvas.
Prints
Printed graphics seem to be a new essential for spring, having been a main attraction during the last few S/S runway seasons. Printed shirting is the most seen, yet this season, suits, jackets, pants and shorts all got the printed treatment. Floral is the most prevalent and most obvious for springtime, however, designers also experimented with geometric patterns, abstract prints, and incorporating art into the prints. As the warmer months make it harder to layer, rocking prints are a surefire way to add pop and visual interest.
Stripes
Along with crazy graphic prints, stripes have emerged as a popular pattern choice this spring. Whether they be small or wide, vertical or horizontal, stripes are everywhere. Wear them on your suits, jackets, shirts, shorts or trousers. Vertical stripes add a retro-inspired aesthete to an outfit, and horizontal breton-style stripes add a nautical touch. We say, pile 'em on, sailor.
New Shades
This season, we saw designers play around with a few shades that have not been incorporated in men's fashion for a good while. Hues of yellow, orange, and pink added flair to and sometimes dominated whole outfits. While these colors are notoriously thought of as not masculine, overly vibrant or too preppy, the hues exemplified here are more washed, and toned down. The effect is a more subtle shade that appears more natural and in our opinion, looks way better. This is definitely an easy trend to implement, and the result is dramatic. Spring is a time where nature becomes more vibrant, and your wardrobe should too.
Tone on Tone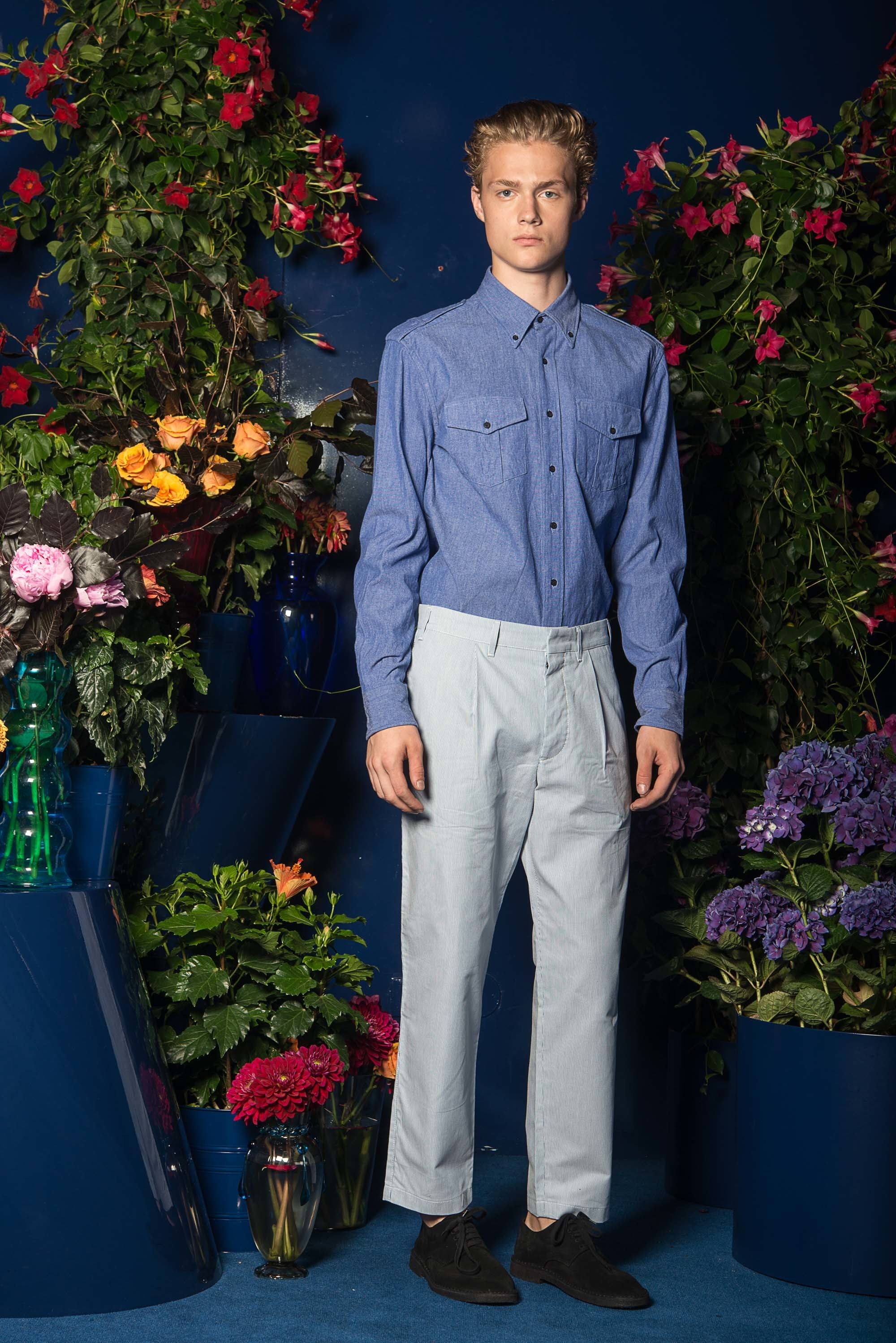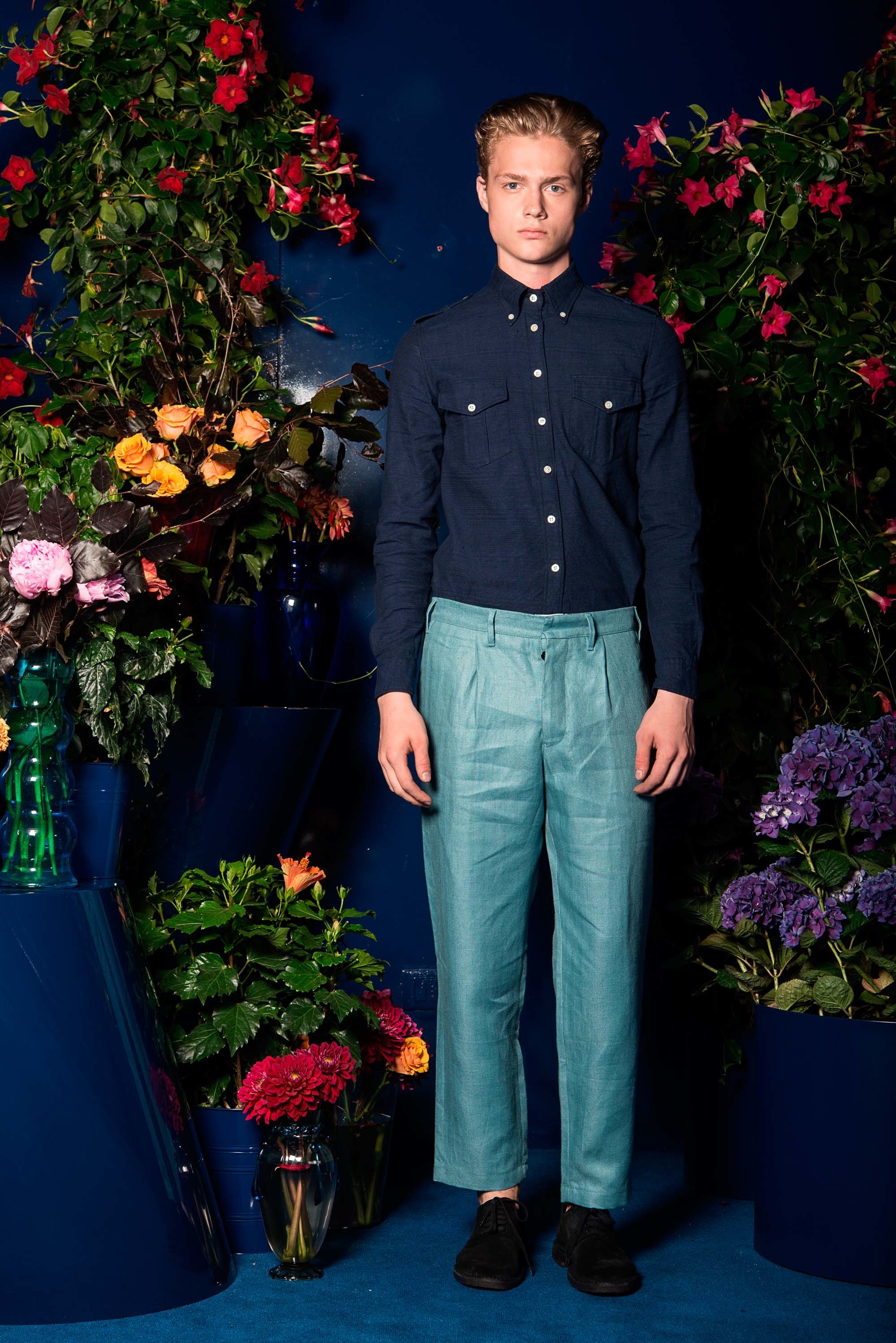 A prominent trend across the board this spring was having outfits mix and match variations of the same color. While all these outfits are just variations on the same color, the effect is anything but boring. Mixing hues of the same color add a subtle depth to an outfit. The move itself is not difficult to pull off either, everything is in the same color family. So, for the most dramatic style move you can get from wearing essentially one color, go tone on tone.
Athletic Detailing
As "athleisure" (cringe) has become such a clothing phenomenon, designers took the sporting idea and threw it back for this season. Another fun component found in many spring collections were the additions of vintage style sport detailing. Jackets and trousers adorned with lean, athletic style stripes down the sides and full tracksuits, jackets and pants were shown all over the runway for this spring. The move is particularly cool, adding sporty flair in an unexpected way. Todd Snyder, Bally, John Elliot and AMI in particular executed it the best this season.
Camp Collar
This season also saw most designers add a vintage swerve to their casual button down shirts by adding a camp collar. This 50's era, vintage detailing adds a fun riviera-esque vibe to casual shirting, and works as well on the streets as it does on the beach.
Spring Suede
A cool way to add a smooth, luxe detail to an outfit is to add a suede jacket. This beautiful hide was used by designers like Kim Jones of Louis Vuitton, John Varvatos and Officine Generale to add an opulent touch and textured depth to an outfit. Whether as jackets or shoes, suede is unexpected. It's a softer, more delicate cousin to leather, which makes it perfect for those mild spring breezes. Just don't get caught rocking it in the rain!
Neckerchiefs
S/S '17 had one particular detail that was unexpected and very unique: the neckerchief. I cannot count how many shows I saw it in, and it's lining up to be a hot trend of the season. In a time where it is too warm to don a scarf, neckerchiefs and bandanas can prove to be a great move to give your outfit that finishing touch. While it may be a bold swerve, the neckerchief is an interesting way to add color, pattern, and spice up a plain outfit.