DRESS WELL: Secondhand Steez
Fashion has a long standing reputation for being an industry obsessed with the "new." Trends are constantly in flux. Manufacturers hastily work to produce millions of garments that will only be thrown away or forgotten about within a year or two. Why the rush? Sometimes the clothing with the most integrity and intrigue does not come straight from the newest collection. You may not be able to teach an old dog new tricks, but certain pieces from the past can be reimagined by a new wearer. Going thrifting and styling the garments of a different time has become a way for a new generation of well-dressed people to uniquely express their personal style. Antiquity has become fresh again, as the mainstream and the sleek seems devoid of character to some. In this generation of digital instant gratification, it seems as though the most forward thinking individuals gravitate toward an aesthete of a sort of generational escapism; a glimpse into a simpler world. We here at LVD fully endorse mixing in vintage pieces to amp up your wardrobe. As rapper and Detroit legend Big Sean once famously said, "Wearing retro sh*t, that's old fashion." Here's 10 different ways we do old fashion:
Hawaiian Rockstar (Vintage Shirt and Jeans)
Avery: My fashion sense has always been to draw inspiration from the past, and give it a youthful twist. With that in mind, I love to thrift. This look here is by far my favorite summer outfit. A breezy, crazy patterned vintage shirt brings a relaxed, beachy vibe while the ripped denim adds some edge. I like to roll up my sleeves and leave a few buttons undone for extra ventilation and sex appeal. This is the best way to do the Hawaiian shirt without looking like a Tommy Bahama ad, a fratboy or your great uncle Melvin on vacation.

The Arms Dealer (Vintage Jacket, pants, and Shoes)
Mason: For my first vintage outfit every piece was thrifted except for my belt and shirt. I cannot explain how gassed I was when I found a brand new pair of Doc Martens dress shoes in my size at the Royal Oak Salvation Army. I wore these with a pair of pinstripe charcoal grey trousers that I had thrifted and then tailored (why buy fast fashion trousers that will fall apart when you can go to the thrift and get a quality garment to customize?). From there I put on a white camp collar button down and Camo field jacket. While I had no singular point of inspiration when styling this look, I looked in the mirror and felt like I looked like an arms dealer, overseeing shipment of his weapons to the front lines.
The velour vendetta (Upcycled Hoodie, vintage track pants)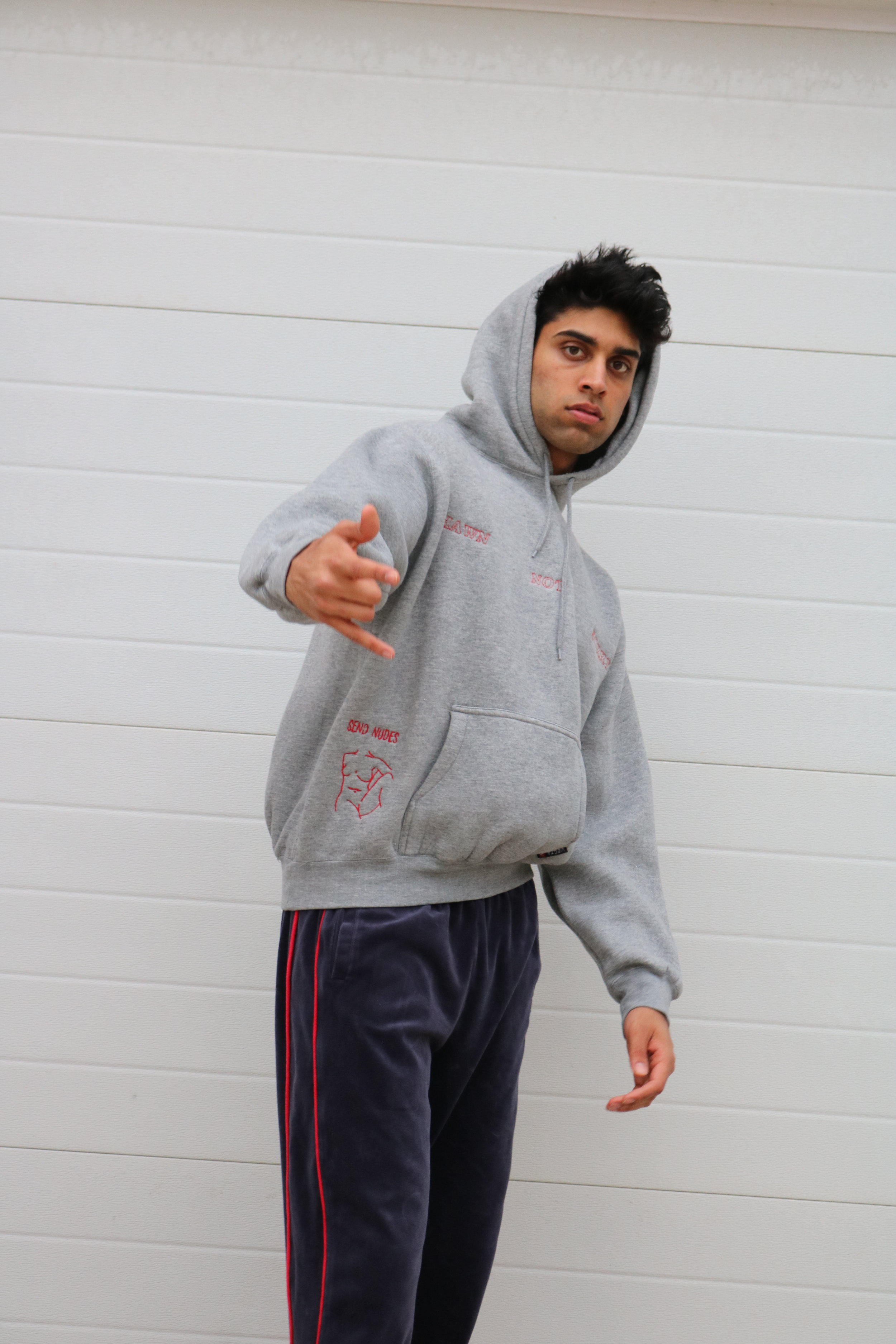 Shawn: Posting up with the velour kick back Fila sweats and rocking my Not Sorry Apparel custom hoodie boasting the fact that I️ am indeed not sorry. Not sorry for being this damn sick! Rocking this here outfit with some blue suede vintage Puma sneaks that are pretty versatile. You can wear these with anything as long as you style it right. I️'m thinking throw a blazer on with a T shirt, some nice pantaloons are a way to buff out these sneaks! Let me tell ya, you're in for a whirlwind of head nods throughout the night (;
Checkmate (Vintage Shirt)
Cedric: Summertime is when I am the most playful with my wardrobe. Short sleeve button downs are a must-have because they keep you looking classy in the heat. Vintage shopping is the best way to get some unique and fun shirts to add to the collection, all for a steal! This one right here is my favorite. It's flowy and comfortable, and the all-over print adds extra style points. A shirt this bold needs to shine on its own, that's why I styled it with dark jeans, and some sharp dress shoes.
The Field Medic (Vintage Sweatshirt)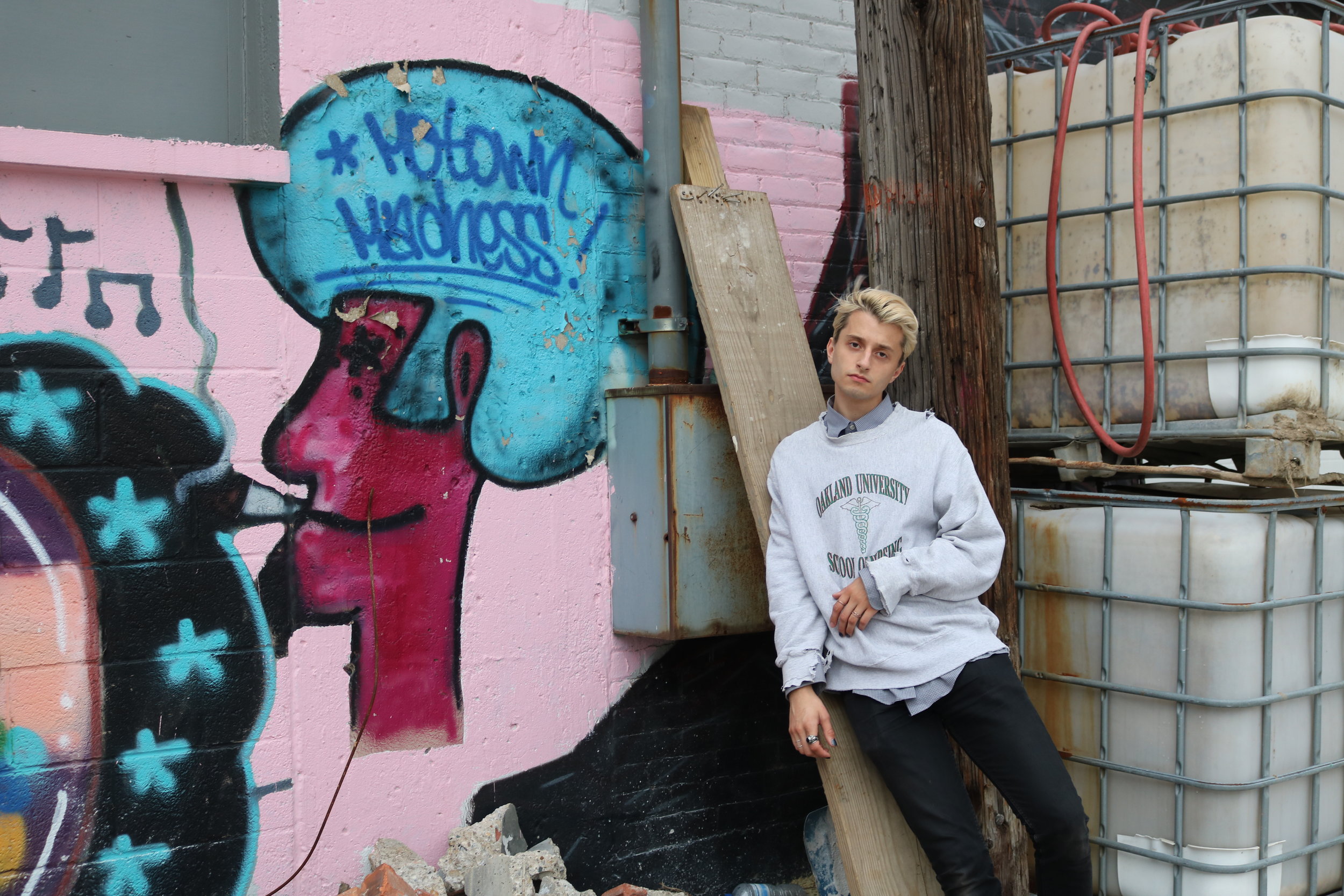 Mason: For this outfit I really wanted to emphasize this super distressed grey Oakland University School of Nursing sweatshirt my mom got as a nursing student way back in 1995. I love the cut of it and how ripped up the cuffs and some of the shoulder seams are. To contrast and elevate the grunginess of the jumper I paired it with a bunch of rings and a Yves Saint Laurent checked button down I got from the local vintage store Detroit Clothing Circle. The pants and shoes remain the same as the previous look. In my opinion, black slim jeans are the most versatile type of trouser one can own.
chic, sleek collegiate physique (Vintage Sweatshirt, pants)
Shawn: Don't hate me for making this the title of my outfit, HMU if you think of anything better lmao. But, here we are rocking these vintage Tommy Hilfiger seersucker pants, baby blue Polo socks, same blue sneaks from earlier, and my vintage Cremieux Jeans University of Paris fashion distressed red sweater type thing. Hope you enjoy. I️ sure as heck didn't :)
Mom Jeans (Vintage jacket)
Avery: Sometimes the best vintage cops don't come from a store! I recently stumbled upon this jacket while going through a coat closet in my house, and it was my mom's old jacket from 30 years ago. I immediately claimed it. The details on this jacket are amazing with the unconventional stitching and pockets, the baggy fit, and the rose detail on the shoulder. I paired it with some straight leg trousers with a side stripe and some white sneakers to stay true to the 80's ethos of the jacket. Thanks mom!
the Secondhand Dandy (Vintage Tie)
Cedric: As an aspiring young professional, it always helps to fully dress the part. I've been doing my fair share of attending and speaking at conferences lately, so I was on the lookout for something to help spice up my tailoring game. In Toronto while thrift shopping, I stumbled upon this tie and it was love at first site. The floral pattern lets me be a bit dandy, while the blue jacket and pants keep the fit grounded. Everything is well coordinated, as the shirt matches the pink in the tie, and my pants bring out a subtle blueish gray color in the tie. It's business without looking stuffy, just how I like it.
The Thin White Duke (Vintage Tee, Dress Shirt)
Mason: I have always been intrigued by the idea of a sort of terrifying beauty, or beauty found amidst darkness. Thusly, those who embrace such ideas of beauty have always been a great inspiration to me. One such example would be David Bowie's infamous character The Thin White Duke. Here I tried to reimagine the character in a modern context. I replaced the vest with a Vans tee shirt I found at a Salvation Army in Rochester and wore a thrifted button down underneath that. To add a more punk DIY element to the outfit, I attached pins to the lapel of the blazer and wore a belt I made out of chain.To finish off the look I wore black skinny Jeans and a pair of clunky black Raf Simons sneakers.
Unapologetic Ave (upcycled shirt)
Avery: This amazing shirt was made for me by the great people over at Not Sorry Apparel! I love the old-school, 80's prep, Carlton Banks-esque vibe this shirt has. I decided to style this by doubling down on the prep aesthetic by pairing it with some white trousers and loafers. However, my rings (fun fact: most of my rings are either from a vintage shop, or were my Dad's from when he was my age), the embroidery on the shirt, and the slim fit of my trousers add enough elements to keep this from going overboard and being too preppy.
That's how we do vintage, LVD Style! Who had your favorite fit? What style tips should we give next? Let us know!